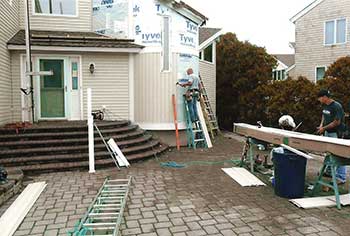 Welcome to Atlantic Roofing & Siding. If you're in the market for a new roof or siding, you've come to the right place! We've been installing roofing and siding in the Ocean County area for over 25 years. Whether you are in LBI, Barnegat, Manahawkin, Lacey Township or any surrounding area, we want to hear from you!
Why hire Atlantic Roofing & Siding as your roofing contractor?
We are licensed and fully insured roofing and siding contractors. We are a local company with years of experience that you can trust. If you are experiencing a leaky roof, or perhaps dealing with an old roof near it's end of life (usually over 20 years old), we are here to help. Are you looking to enhance the curb appeal of an older home? Consider vinyl siding to give your home a whole new look!
Looking for roof repair in Ocean County, Monmouth County or Atlantic County??
Atlantic Roofing and Siding is also available for roofing repairs as well as inspections. If you're not sure if you need a new roof, our expert roofers can point you in the right direction. All of our work is guaranteed, so you can have some peace of mind when the work is complete.
Roof inspections in Ocean, Monmouth & Atlantic Counties
Don't wait until it is too late to replace an older, end-of-life, roof. If your roof is over 20 years old and hasn't been inspected, you should have it looked at. Do not wait until your roof is leaking and causes damage to other areas of your home to replace it.
Residential and Commercial Roofing
We service residential and commercial customers. Our team is experienced in:
Shingle Roofs
Flat Roofs
Gutters
Skylights
Vinyl Siding
Fiberglass Decks
Soffits & Facias
Replacement Windows
Vinyl Railings